*Boarding:
Limited boarding is available for horses in training or students taking weekly dressage lessons
Minimum of four lessons per month or four training rides per month are required
Facility includes nine-box stalls, a heated tack room and lounge, a 60′ x 120′ fully insulated and heated indoor arena, a 70′ x 200′ outdoor arena and a 60′ round pen. Pastures include four separate turnout areas on 20 acres.
Box stall boarding includes box stall with hay, Triple Crown 30 Balancer and water, and daily turnout. Vitamins or special feeds will be fed, if provided by the owner, at no charge.
Pasture board with group feeding with hay, Triple Crown 30 and water. We also provide pasture board with customized individual feed and vitamins.
Arrangements can be made for catching and holding your horse for the farrier or the veterinarian if scheduled ahead of time.
*Contact Dressage in Wisconsin for rates.  Wisconsin requires a boarding sales tax at 5.5%.
*Breeding:
Gentil Mor 1, purebred Andalusian stallion, with full tribunal breeding rights, standing at Hay River Equestrian. Available for cooled shipped semen.
Gentil has been shown through pre-St. Georges, and is a very kind, intelligent
Contact Hay River Equestrian for pricing.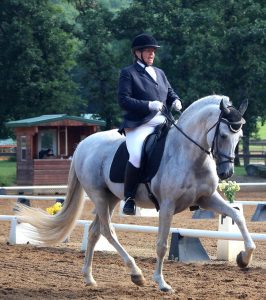 *Lessons:
Individual dressage lessons or a prepaid package of five lessons on your own horse.
No discounts are available for lessons on school horses.
Lesson packages need to be used within two months.
No refunds are available on unused lessons.
If a lesson must be changed or canceled 24 hours notice is required.
*Coaching:
Coaching is available at local shows or at regional or national shows.
Local shows – regional or national shows coaching fee may vary plus expenses.
*Training:
Dressage training is available on a limited schedule.
Training horses are taken on a case by case basis.
The purpose of the training is to ensure the owner and the horse become as compatible with each other as possible as they reach their riding goals.
Training rides are offered.
Horses will be evaluated for saddle fit, body condition, and feeding will be adjusted to accommodate training and any pain issues will be addressed before training starts.
*Judging:
Karen is available to judge dressage schooling shows at a  negotiable rate per eight hour day plus mileage.
Partial judging day rates may be negotiable as time allows.
*Contact Dressage in Wisconsin for rates.