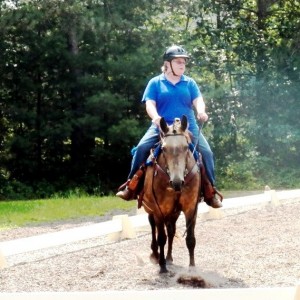 Angie Hutter, Durand, WI
Smokey, Grade Mare – Western Dressage
Photo by Pam Powers
After a lifetime of having/working with horses both "backyard family horses" and working in multiple training/show stables my horses and I have found our home away from home with Karen and the "crew" at Hay River Equestrian.
In the last four years, I have had my two horses boarded here, including training for them and lessons for me. My first time out to the barn
I was struck at how quiet, friendly and calm the horses were. They all very quickly came up to the fence all wanting to have a pet and I soon figured out a treat from me. As soon as I talked with Karen, I figured out that the horses were that way as she was calm, knowledgeable, listened to what I had to say, asked great questions about me and my horses' skills, strengths and weaknesses, as well as my wishes and hopes for all three of us.
Karen and the "crew" love and treat my horses as if they were their own. She is constantly monitoring both their physical and mental well-being.
She keeps up to date on feeding principles, while providing hay, feed and pasture turn out on scheduled routines as well as placing the horses in the pastures to provide the most compatible groups as possible. Farrier care, worming and vaccinations are done on a schedule and as needed. Vet, oral care, as well as horse massage can be set up. She will also administer extra supplement and/or medications that are provided by the owner or ordered by a vet. Several saddle fitters also come to the barn as needed to assist with optimal saddle fit to work with improving horse and rider communication and comfort.
Karen is an excellent trainer with the amazing ability to understand and feel each horses' needs, ability to learn, strengths, weaknesses and current level of training while re-evaluating current bits, saddles, pads in use as well as the horse overall manner toward their ongoing training. She does this in a calm reassuring manner, with the horses wanting to be "picked" from the pastures to be worked with. She has been able to take my mid- to late- teenaged mare who had panic attacks when first being rode to now understanding the basics of dressage. No easy feat with a stiff, pudgy little mare with the great ability to ignore the rider in a calm, gentle manner.
My second horse is my unexpected, but much cherished surprise baby that came to Karen at six months old. He is now 4 ½ years old. Karen started him with groundwork as a baby and has continued with his under saddle training. He and I are both learning the fabulous world of dressage with show plans in the works.
I do not know what I would do without Karen as she has provided me with a way to continue to take lessons on both of my horses. Due to some physical limitations that I have, she literally assists me with getting on and off of my horses. She is always positive, patient and is able to help the horse and rider with being a working, happy team. She is able to do this with all level of riders and horses in group and private lessons and if needed will repeat a concept as many times as needed in multiple ways both verbally and by demonstration.  This comes from her vast knowledge and experience with giving lessons, training and showing horses at multiple levels of dressage.
She also has some excellent lesson horses.
So if you are looking for a quiet, calm barn that includes a bunch of mainly "mature ladies" who love to get together to enjoy each other, learn more from and about our horses come out and give Hay River Equestrian a try.
---
LeAnn Ralph, Colfax, WI
Saleena, Lipizzan Mare
Photo by Randy Simpson
"Karen is a wonderful teacher.  She is sensitive to the needs of both horse and rider and focuses on the positive of what the student and horse are doing."
"Karen is such a skilled rider herself that it is pure pleasure to watch her ride.  But what makes her unique as a teacher is that she is able to articulate what it is she does and what the student needs to do to improve her riding."
"I have ridden for pleasure all of my life, but I had never ridden dressage until I started taking lessons with Karen.  I have learned so much from her, and am enjoying every minute of it."
Dressage in Wisconsin is made easier with a full sized outdoor arena, 60 foot round pen and an insulated/heated indoor arena!